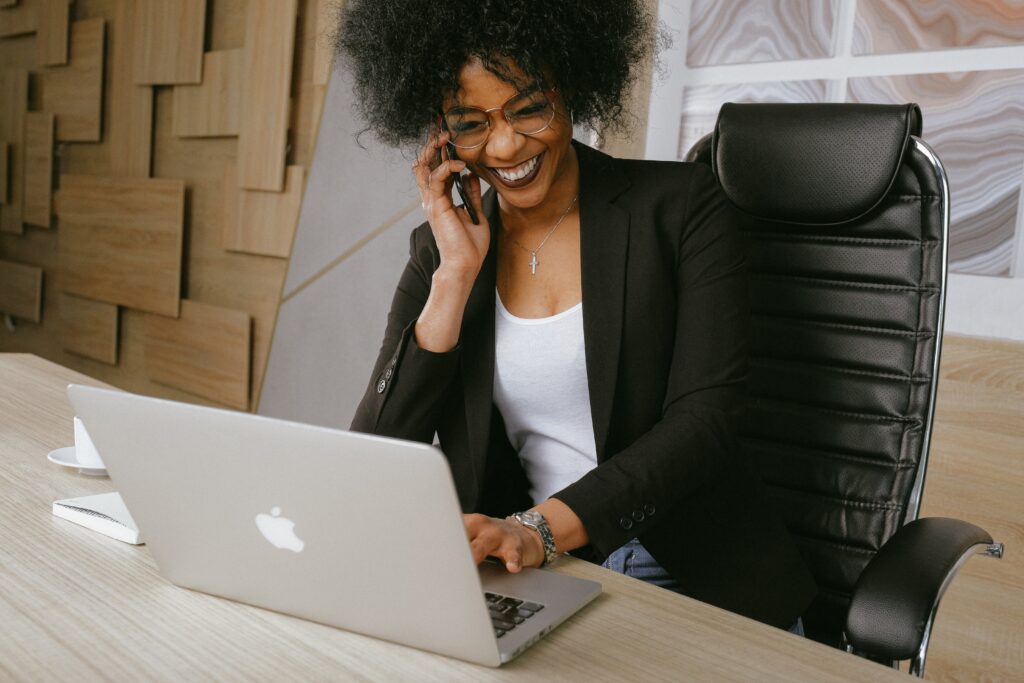 Wondering why you'd go for offshore outsourcing instead of keeping it local? Sure, it might seem a bit out there to send work across the ocean, but there are some pretty solid reasons why going offshore can actually work out better for you.

But, before we dig deeper into the benefits of offshore outsourcing, we need to look into the difference between onshore, nearshore, and offshore outsourcing.
Basically, there are two ways to distinguish BPO providers: based on their location and the services they offer. This article will go through the divisions based on site ‒ onshore, nearshore, and offshore outsourcing.
For the different types of services that BPOs offer, read the Business Process Outsourcing Examples post.
Jump to:
The three types of Business Process Outsourcing (BPO) based on location

What is onshore outsourcing?
What are the benefits of onshore outsourcing?
What are the disadvantages of onshore outsourcing?

What is nearshore outsourcing?
What are the benefits of nearshore outsourcing?
What are the disadvantages of nearshore outsourcing?

What is offshore outsourcing?
What are the benefits of offshore outsourcing?
What are the disadvantages of offshore outsourcing?

Drawing a conclusion
The 3 types of Business Process Outsourcing (BPO) based on location
Following the extensive analysis of the Pros and Cons of Business Process Outsourcing, in this article, we look into the three most common outsourcing location types ‒ onshore outsourcing (or domestic BPO), nearshore outsourcing, and offshore outsourcing. Below we dig deeper into each one's advantages and disadvantages.
What is onshore outsourcing
Onshore, or domestic outsourcing, is the act of outsourcing and receiving services within the borders of the country where a company is based.
Various circumstances might cause domestic outsourcing to be advantageous, including the availability of specialist talents in specific areas, regional imbalances in rates and expenses, and the company's culture and skill requirements.
What are the benefits of onshore outsourcing?
Below are three benefits of onshore outsourcing compared to other outsourcing locations:
Same laws and regulations: Onshore outsourcing offers reduced risks since both companies follow the same rules and regulations, such as proprietary rights, IP protections, and copyright laws.
Easier communication: As both companies are from the same country, communication is generally more straightforward. Also, onshore outsourcing offers the possibility of in-person meetings if needed.
Same time zone, same culture, same work styles, same holidays: There won't be any dealing with cultural differences and different work styles. Also, there won't be problems arising from not being able to handle emergency issues due to mismatched holidays.
What are the disadvantages of onshore outsourcing?
When compared to other locations, there is one major disadvantage of onshore outsourcing:
Not cost-effective: The two main reasons for outsourcing are freeing time to focus on core competencies and reducing costs. While the former is covered with a domestic BPO, you will see no significant cost reduction.

Because your BPO's country is the same as yours, the cost of services will be the same as having your own team do it. You might save on recruitment and training expenses, but not much more.

With the standard of living being much lower in offshore countries ‒ and with it the median wage ‒ offshore outsourcing offers the same level of expertise but at a MUCH lower cost.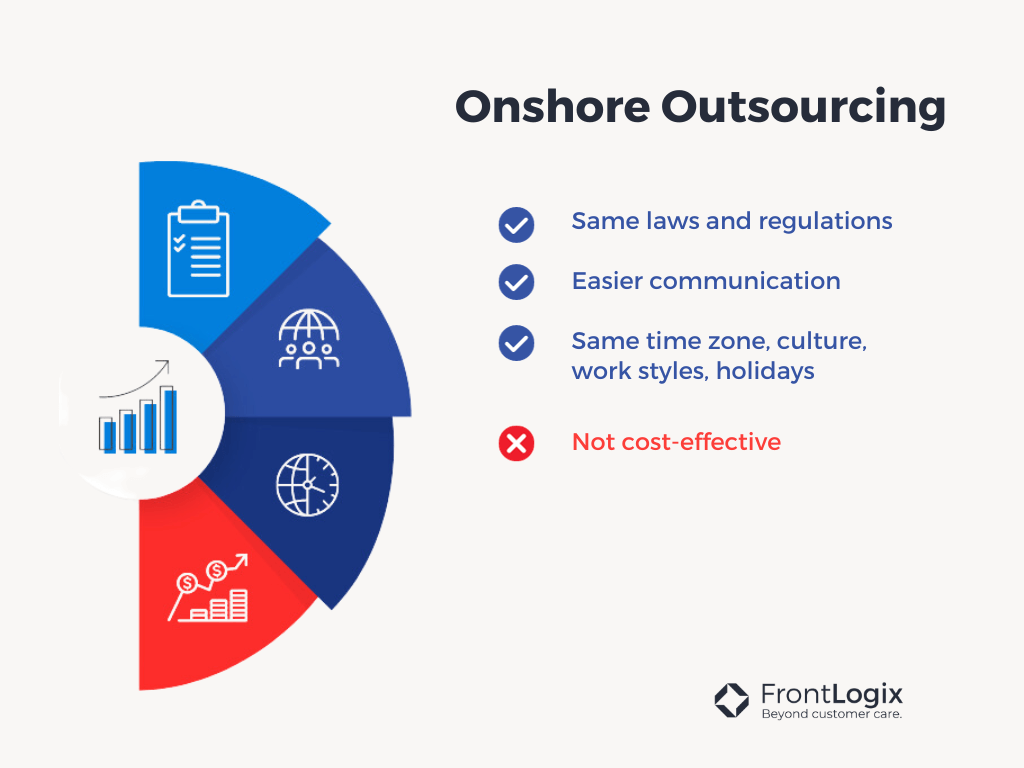 What is nearshore outsourcing
Contracting outsourcing vendors' services between neighboring countries, or geographically close countries, is known as nearshore business process outsourcing.

For example, this might include Canada, Mexico, or Central America for US-based companies. Nearshore outsourcing most often happens when companies need specialized skills at lower costs, but specific criteria, such as time zones and language proficiency, must still be considered. One example of nearshore outsourcing can be when a Silicon Valley company outsources some services to software specialists from Mexico.
What are the benefits of nearshore outsourcing?
Below we list four benefits of nearshore outsourcing:
Same time zones: Your BPO being in the same time zone enables real-time communication during your regular business hours. This allows for improved collaboration and reduced time lag between project completion.
More cost-effective than domestic outsourcing: Nearshore outsourcing offers the added benefit of cost-cutting compared to onshore outsourcing, as wages and other costs may be lower.
Similar mindset and culture: Smaller distance often implies smaller cultural differences.
Low(er) travel costs: When partners are in close proximity, the expenses for face-to-face business meetings are lower than with an offshore outsourcing BPO.
What are the disadvantages of nearshore outsourcing?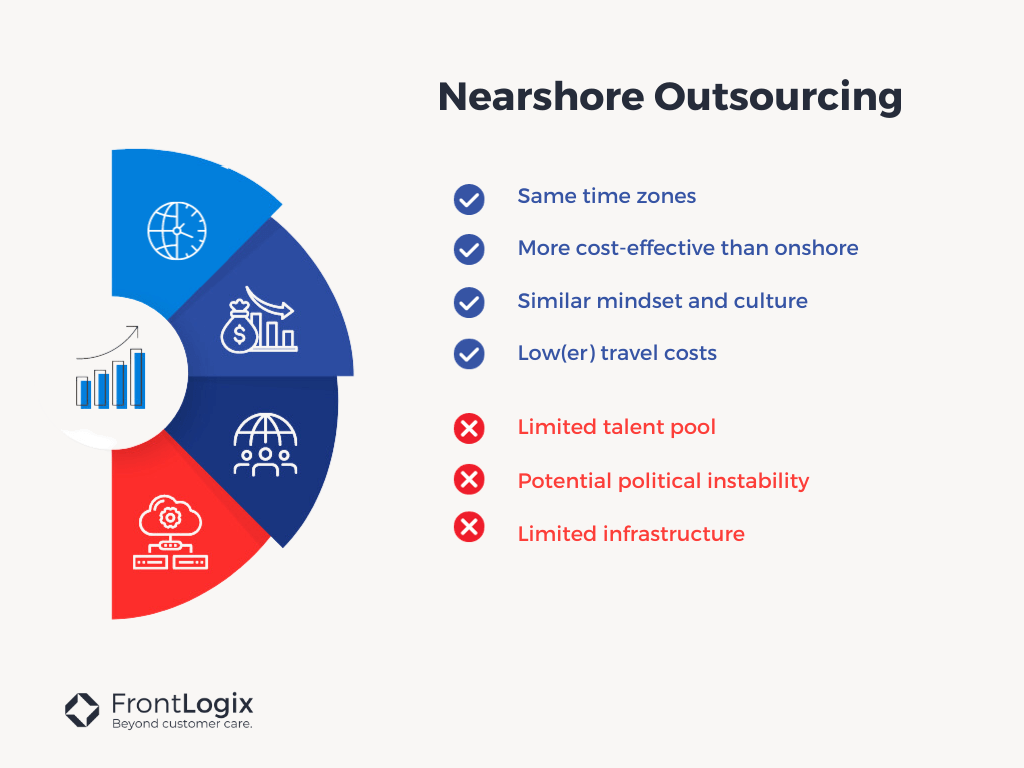 Limited talent pool: The talent pool in a neighboring country might be limited for some industries.
Political instability and limited infrastructure: Nearshore BPOs might be located in an area of political and economic instability. Also, developed countries have a more reliable internet connection and power supply.
What is offshore outsourcing
Offshore outsourcing is the third example of outsourcing business customer operations and other company activities. When a company hires a third-party supplier to run some of the operations from an outside country (most often overseas), it is known as offshore outsourcing.

Available resources, political structure and stability, lower labor costs, tax reductions, and other factors encourage companies to outsource offshore.
What are the benefits of offshore outsourcing
Seven benefits of offshore outsourcing are listed below:
BPOs are professionals at what they do: You can rest assured that the services they offer are backed up by years of experience in the field. They've already provided the training and found the best managers for the task. If you decide to hire and train in-house staff, there will be months, if not years, until they reach the level of teamwork and expertise the BPO offers.
Global talent pool: Offshore outsourcing opens up the doors to access highly trained and talented work teams. Thanks to globalization, companies may now connect with and hire individuals from all over the world.
Capitalizing on a well-educated workforce: Some of the most popular outsourcing destinations have a high percentage of upper secondary or tertiary education in the workforce. For example, North Macedonia, a country with a thriving outsourcing economy, boasts a tertiary degree attainment rate of roughly 64%. In the United States, that figure is 47.8%; in England, 42%, and 20% globally.
Cost-efficiency: Taking your business offshore means taking advantage of the lower cost of living expenses in outsourcing countries. This can result in significant cost savings for the company, as wages and overhead expenses are often much lower in countries with a lower cost of living.
No employee benefits, health insurance, and retirement costs: Because the BPO partner handles these, you will pay no additional benefits, as opposed to hiring an in-house workforce.
Tax reductions and tax exemptions: Companies may be eligible for tax exemptions and tax reductions in certain countries. The eligibility for tax reductions and other financial incentives varies from country to country. It is generally based on the type of business activity, the location of the business, and the level of investment the company makes.
24/7 work schedule: The time difference might be a benefit in certain aspects. For example, your team and the outsourced team can cover opposite shifts. Precisely because of the time difference, Customer Service is covered around the clock.
What are the disadvantages of offshore outsourcing?
Potential language barriers: If the mother tongue of the outsourcing country is not the same as yours, there may be some language barriers. However, when it comes to English, this is rarely the case, as some offshore countries have mandatory English as a second language taught from the first grade.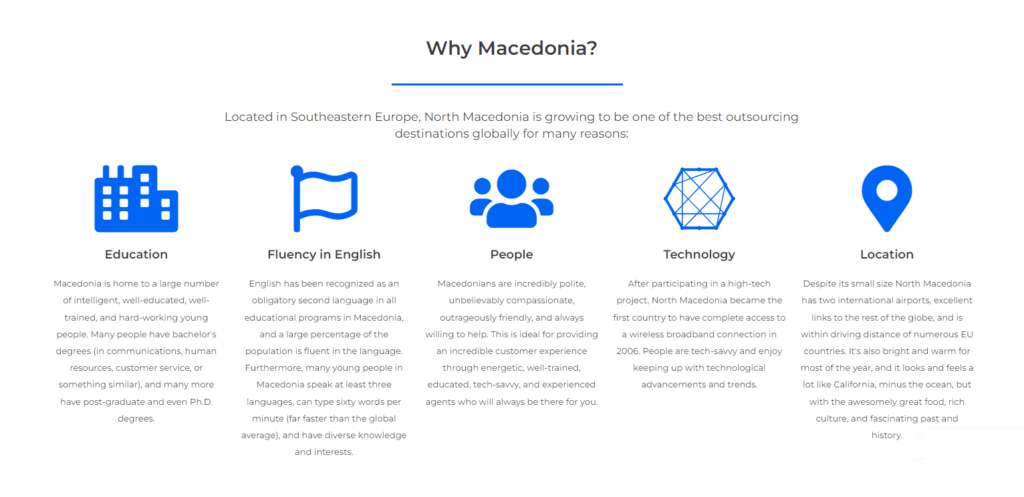 Potential cultural differences: Great distance might indicate significant cultural differences, which can cause misunderstandings and difficulty in collaboration.
But that is only sometimes the case. Some countries have been riding the wave of Globalization much more than others. Go through this Checklist for finding and choosing the right BPO partner before committing to one.
Different time zones and mismatched holidays: Meeting coordination and real-time communication can be difficult due to the time difference. Ensure that the offshore BPO covers shifts during your regular working hours and has a plan for covering days when a national holiday conflicts with yours.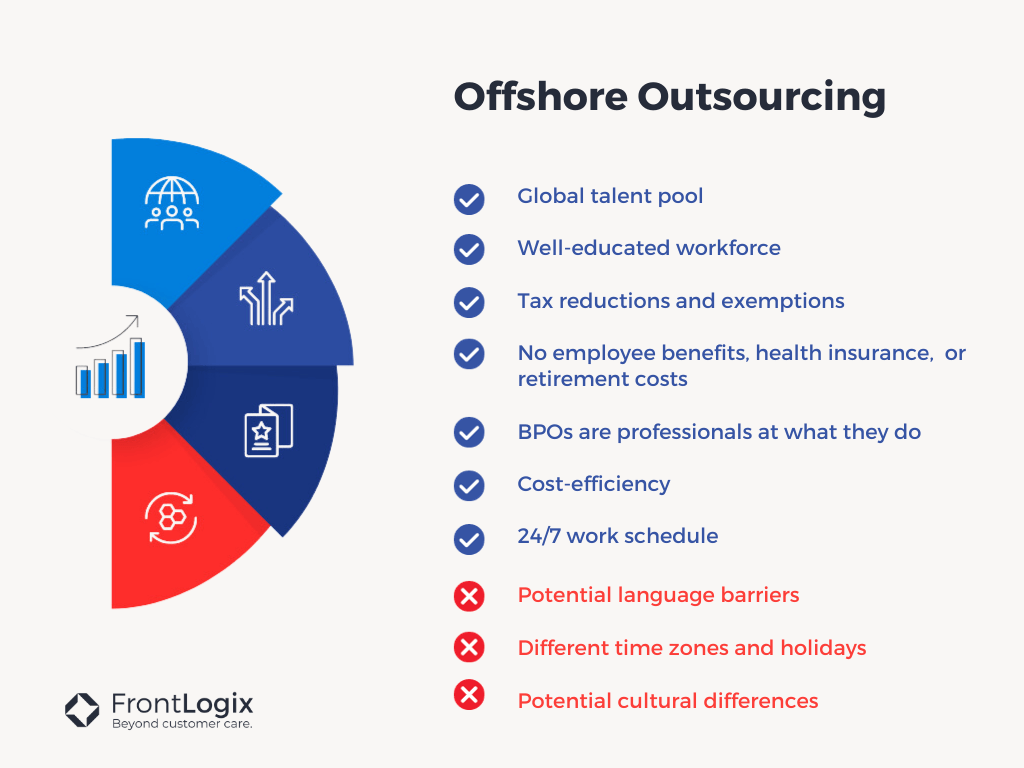 Drawing a conclusion
While many companies need outsourcing services, offshore outsourcing seems to be the most beneficial and the right choice for companies that don't need to have all operations done in the same time zone.

Offshore outsourcing is highly cost-effective due to lower living and labor costs, tax reductions, and lower administrative expenses. This is particularly the case with emerging and developing countries.

Also, hiring an offshore BPO will provide you access to a global talent pool, with high availability of specially qualified, skilled, and motivated people who operate fast and efficiently.
FrontLogix is an offshore outsourcing provider that offers exceptional 24/7 Customer Experience, Customer Success Management, Sales Generation and Support, Billing, Software Technical Support, Workforce Management Services, and various Digital and Back-office Services.
Contact us today to discuss how we can help you.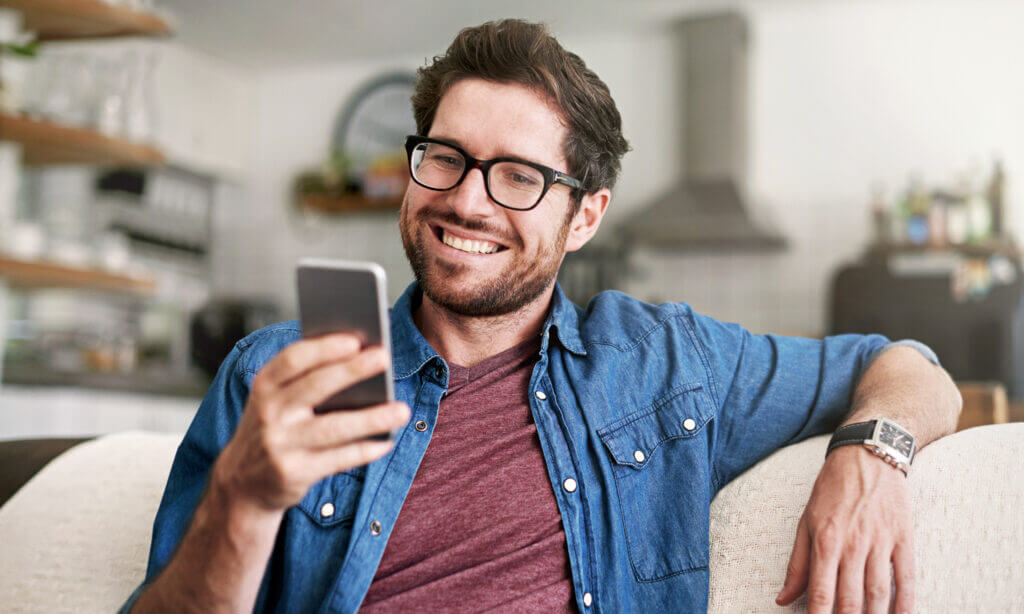 6 simple yet powerful strategies to improve customer retention
Can you remember the last time you re-engaged with your customers and tried to win them back?

These strategies will do exactly that and more.