Outsourcing customer service is the process of subcontracting an outside partner to manage your contact center operations and customer service interactions. Industry professionals will manage a team of outsourced agents who will learn your brand voice, product, and services and handle your customers' queries.

Finding the right partner can be challenging and outsourcing has several risks. However, when done right, your business can benefit significantly from collaborating with the right outsourcing provider.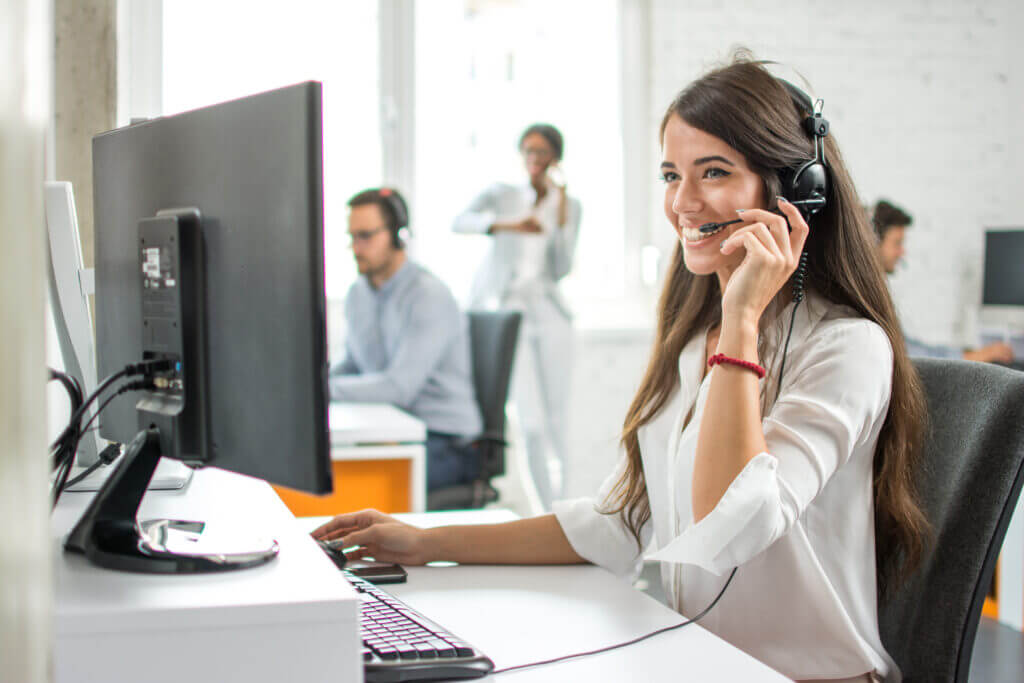 ---
7 benefits of customer service outsourcing
1. Significant savings
The firs, and probably the most important reason for outsourcing is cost reduction. Considering the expense of hiring and training new staff, office setup, and infrastructure costs makes outsourcing the ideal solution. It eliminates unnecessary costs while allowing your organization to focus on core tasks. According to research, companies that transfer their customer support service to reputable outsourcing companies profit more than those struggling to maintain a proper in-house customer support team.
2. Access to a pool of talented professionals
In addition to reducing costs, outsourcing customer support saves you time by giving you access to a workforce that already has the necessary skills. Finding candidates with the correct skill sets can prove challenging, and hiring and training staff for a short-term period can be rather costly. By outsourcing, you don't have to go to great lengths to instill skills and develop staff.
3. Access to technology resources
Outsourcing has the potential to help your business keep pace with technological advancements. By leveraging the resources of an outsourcing partner, you can avoid investing in untested technology and expensive equipment. Their infrastructures, state-of-the-art software, and CRM technologies that gather customer feedback and monitor customer behavior can give you a significant advantage.
4. Flexibility and scalability
Outsourcing gives you wiggle room in terms of scalability, growth, and size reduction. You can hire a team with a short-term commitment, expand the team as your company grows, and reduce size whenever necessary. Also, if you are unhappy with the performance of the contact center, changing teams or providers is a much easier process than the HR nightmare of restructuring and rehiring.
5. Increased security and reduced risks
Another outsourcing benefit is that there are strict compliance and security procedures in place to prevent data breaches. Your confidential information will be protected by non-disclosure (NDAs) and confidentiality agreements. Also, you can rely on your outsourcing partner to provide you with all the necessary information, scope of work, performance metrics, and budgets, as required by the contract.
6. Quality improvements
Both your HR and administrative staff will benefit greatly from outsourcing. When overburdened, employees are forced to submit mediocre work. This in turn results in reduced business performance and lower job satisfaction scores. Outsourcing customer service allows you to concentrate on core business processes and your in-house team can focus on what they do best.
7. 24/7/365 customer service
Your business can make better use of all 24 hours by outsourcing work to partners in different time zones. No matter whether it's a holiday or a weekend, customers still expect your priority to be resolving their issues. Employees on an offshore team are spread across multiple time zones, allowing the company to operate around the clock every day of the year.

Drawing a conclusion
Outsourcing benefits need to outweigh the risks. If your initial response to the idea of outsourcing is negative, it's possible you just haven't found the right partner yet.
Exceptional customer service providers offer services tailored to all types of businesses. A customer service BPO's core business is delighting customers, and they invest heavily in their agents and technology to provide genuinely exceptional CX. Just remember, your customer service will be only as good as the quality of the contact center you outsource.

Frontlogix values your customers' satisfaction. That's why our teams of managers and highly skilled employees are thoroughly vetted for language skills and industry knowledge. We invest heavily in our customer service representatives – from providing them with the technology and resources they need to train on interpersonal communication, conflict resolution, crisis management, and tailored product and service knowledge.

Our mission is to provide our clients with dedicated CX and be the most successful, creative, and ground-breaking customer care service provider.
Contact us today to discuss how we can help your business deliver next-gen customer service.