Call Center Training Solutions
Harnessing 20 years of industry know-how, our Call Center Training Solutions empower employees to maximize their potential — and drive company profitability.
Call Center Training Program and Services
Whether conducted live, online, or via recorded sessions arranged per request,
our 9-step program is designed to take your agents from zero to mastery.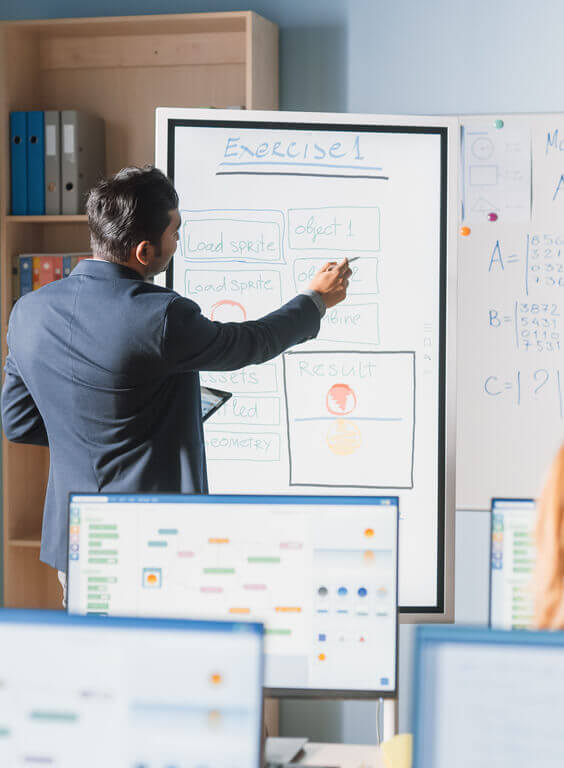 We kick-start the journey by conducting a thorough analysis of your organization's goals, objectives, and existing learning plans.

This powerful understanding enables us to identify any skill gaps, allowing us to craft a training strategy perfectly aligned with your needs.
We work with you to develop a talent mobility framework that clearly defines your employees' roles, skills, and competencies.

We identify cross-skilling and upskilling prospects, construct competency models, chart developmental pathways, and curate content and curricula for your learning and development programs.

This unlocks the full potential of your employees, paving the way for a more agile and versatile workforce.
We know that different job roles call for different skill sets ‒ and, therefore, a different curriculum.

First, we closely examine the unique requirements of each position. Keeping the employee's needs and goals within the company as our prime focus, we then craft personalized training materials and design a curriculum tailored specifically for them.

To accomplish a well-rounded learning strategy, we combine active learning with targeted skill-building exercises. Our clients benefit from our hybrid approach of call center training techniques, including instructor-led training and pull-learning content.

This attention to the unique needs of each role ensures an enriching, comprehensive, and targeted learning experience.
This phase unfolds through our innovative approach to content delivery and call center training techniques.

Whether it's live instructor-led training, online modules, or interactive workshops, we ensure an engaging learning experience that fosters knowledge retention.
Experience the transformative power of our comprehensive LMS, which is more than just a content delivery platform.

FrontLogix's call center training solution comes packed with a vast selection of courses and e-learning content tailored to your company's specific needs.

Additionally, our call center training software not only tracks progress and compliance but also captures data, measures skill acquisition, and offers real-time reporting capabilities.
Entrust us to set the tone for your knowledge management culture via a structured, intuitive knowledge base.

We merge technology, automation, and a central knowledge repository to streamline your employees' day-to-day tasks and expedite onboarding.
Our immersive onboarding approach creates engaging experiences that increase employee engagement and productivity from day one.

By cultivating a solid onboarding process, we ensure new hires fully align with your organization's strategic objectives and reach employee competency faster.
FrontLogix's call center training programs extend the journey of learning beyond the initial training.

By offering ongoing support and coaching to help your employees apply their newfound knowledge in their day-to-day tasks, we ensure continuous improvement, bolster confidence, and foster a culture of lifelong learning within the organization.
Finally, we evaluate the effectiveness of learning initiatives using data and analytics reporting.

This allows us to continually refine our approach. In doing so, we ensure both an optimal return on your training investments and that your training journey translates in success.
We conduct a detailed analysis of your organization's workflows, communication methods, and technology infrastructure and identify the roles and tasks that are most suitable for remote work. Based on this analysis, we design hybrid work models that strike the right balance between remote work and in-office work, enabling your organization to optimize its use of technology and resources.
Why entrust your call center agent training
to FrontLogix?
It only makes sense to seek knowledge from proven industry experts.
Based on over 20 years of BPO experience and front-and back-office workforce optimization, FrontLogix's Call Center Training Program brings forth tried and tested knowledge and experience.
It only makes sense to seek knowledge from proven industry experts.
Based on over 20 years of BPO experience and front-and back-office workforce optimization, FrontLogix's Call Center Training Program brings forth tried and tested knowledge and experience.
Our focus is not only to equip you with the necessary knowledge, but also to ensure its practical application. Staying attuned to the industry's dynamics, we regularly update our curriculum. 
We also understand the importance of growth beyond the training period, which is why we provide post-training support to assist you and your employees in effectively applying the skills learned.
Our aim: develop top-performing teams, optimize operations, and generating value for customers.