Here we explain what is driving the Digital Transformation in contact centers. We'll explore the benefits and all you need to know about data security in contact centers. But also, how to implement, and how to execute digital transformation in your contact center.
As digital channels continue to shape daily personal interactions, there is a greater expectation for companies to integrate digital technology into all business areas. To provide customer-centric, personalized experiences, contact centers need to follow suit.
What is digital transformation in Contact Centers?
Digital transformation in contact centers means adopting a digital-first strategy and integrating digital technology into all elements of a business by using hybrid cloud methods and AI technologies. Its goal is to maximize data use and provide a personalized experience for each customer.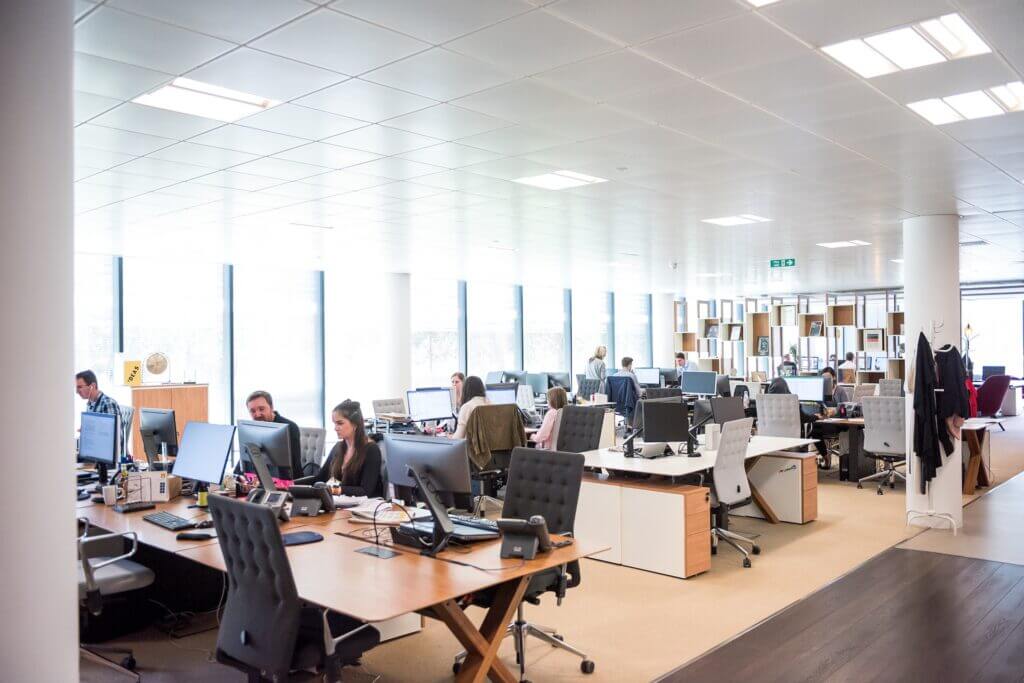 What is driving the digital transformation in contact centers?
The first call centers, known as 'answering services', appeared in the 1960s, officially entering the Oxford Dictionary as "Call Centres" in 1983.

Since their humble beginnings 60 years ago, call centers have expanded around the globe, and evolved from a basic answering service for unattended phones ‒ to handling inbound and outbound sales, reservations, and customer support.

Call centers have a history of being early adopters of new technologies. With the development of Natural Language Processing (NLP) technology and the introduction of voice assistants such as Siri, Alexa, and Cloud Contact Center Solutions, it was only a matter of time before call centers made use of AI and automation.

In 2020, COVID-19 catalyzed the adaptation of these disruptive technologies. The pandemic spurred major changes in product and service availability, creating a considerable increase in calls to customer support centers.

This resulted in an unparalleled dropout rate and customer dissatisfaction. To keep up with expectations, businesses have accelerated the adoption of digital technologies, speeding up the customer service transformation from call centers to digital contact centers. What would've taken them years to adopt was put into practice in a matter of months – ushering in a new era of communication.
6 benefits of digital transformation in contact centers
By offering a digital-first customer experience, businesses can both meet the expectations of today's customers and gain a competitive advantage in a crowded marketplace. A digital-first customer experience is a key differentiator that helps businesses stand out.

Digital transformation carries several other benefits:
#1. Customers will pay more for it
Today's autonomous customer expects a digital-first customer experience – and they are ready to pay a premium for it. Reports have shown that we actually can put a price on improved CX.
The below image shows the willingness to pay more for a better CX, divided by age groups: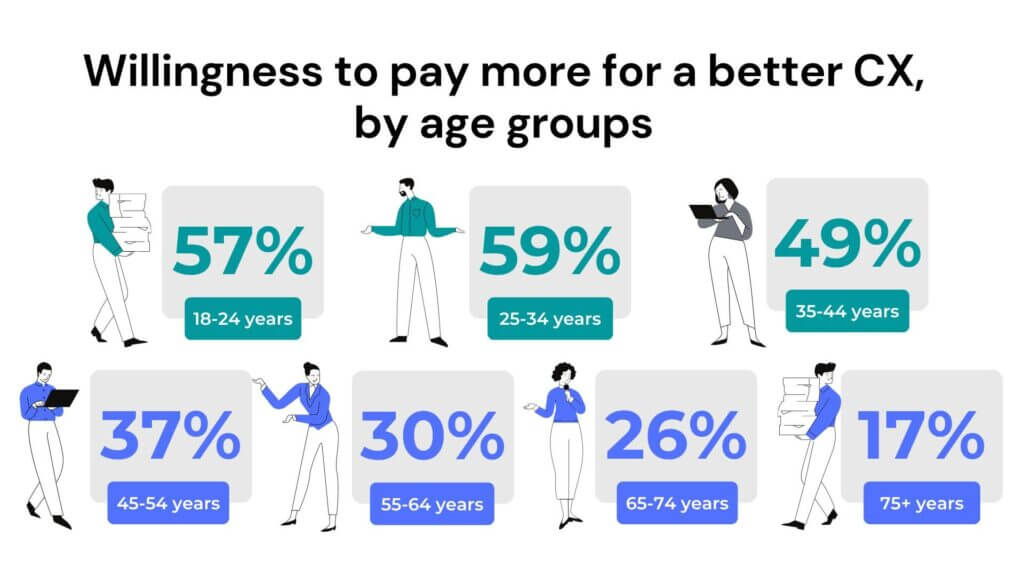 #2. Relevant and personalized support
Digital transformation is allowing proactive service at scale in ways that were previously impossible. Cloud-based contact centers provide access to customer information acquired from multiple touchpoints such as in-app messaging, social media, email, phone calls, video calls, and others. When integrated into a single platform, it allows support reps to provide seamless and personalized support to each customer.
#3. Self-service and AI are more cost-effective than a human agent
Self-service and AI enable faster and more efficient interactions by allowing customers to resolve issues on their own. AI systems are always online, without the need to take a break or sick leave. Additionally, AI systems can simultaneously handle high-volume tasks, which can help reduce the overall customer service cost.

According to recent research, integrating live chat can increase conversion rates by 20%. Replacing people with AI chatbots could save the call center industry up to $80 billion in annual staffing costs by 2026. By 2031, this figure could rise to roughly $240 billion in annual savings. (Source: Gartner)

Also, the cost of automated voice interaction is much lower than the expense of having a real person do it. The industry standard cost-per-call is normally $5-$8, while conversational AI and voice automation reduce that cost by as much as 90%.

Digital tools also positively affect operational costs by eliminating the need for paper-based processes and enabling remote labor.
#4. Improved efficiency
Many contact center tasks can be automated and streamlined using digital tools, freeing up time for agents to focus on more complex queries. Chatbots and automated response systems can manage simple questions, whereas human agents can handle more complex situations that require individualized attention.

According to research, the average call center receives 200 calls per day, 1,000 calls per week, 4,000 calls per month, and misses 48 calls each month. Thanks to digitalization, these numbers can be significantly reduced, as customers can also self-serve which reduces the pressure on contact centers.

Another benefit of digital tools is the ease of collaboration, which increases the overall efficiency of the contact center. Chat and video conferencing technologies, for example, can connect agents and customers, allowing them to interact in real time regardless of location.
#5. Improved data analysis and data management
Digital tools can help contact centers manage and analyze data more effectively, providing insights into customer behavior, preferences, and trends. They can help contact centers identify patterns, improve processes, and optimize their operations. Some examples include:
Data visualization solutions that enable contact center managers to see data trends and patterns more clearly, identifying areas for improvement and making better decisions.

CRM systems provide a centralized database of client interactions and data, allowing contact center personnel to access and manage customer information conveniently.

Quality management systems record and analyze client interactions automatically, providing significant insights into customer happiness, agent performance, and opportunities for improvement.

Workforce management solutions assist contact center managers in scheduling and managing their workforce more efficiently by providing real-time data on agent availability, workload, and performance.
#6. Increased flexibility and agility
Digital tools enable contact centers to operate more flexibly and adapt to changing business needs, such as scaling calls up or down based on demand.

Digital tools enable the work-from-home model, offering greater flexibility in terms of work-life balance and scheduling. Customer service reps can use a computer or mobile device to access customer information and handle tickets from anywhere with an internet connection. This also allows standby agents to log in during unexpected call volume spikes quickly.

By providing such ease of access for reps to log in at all times, contact centers can handle increased demands without additional staff or infrastructure.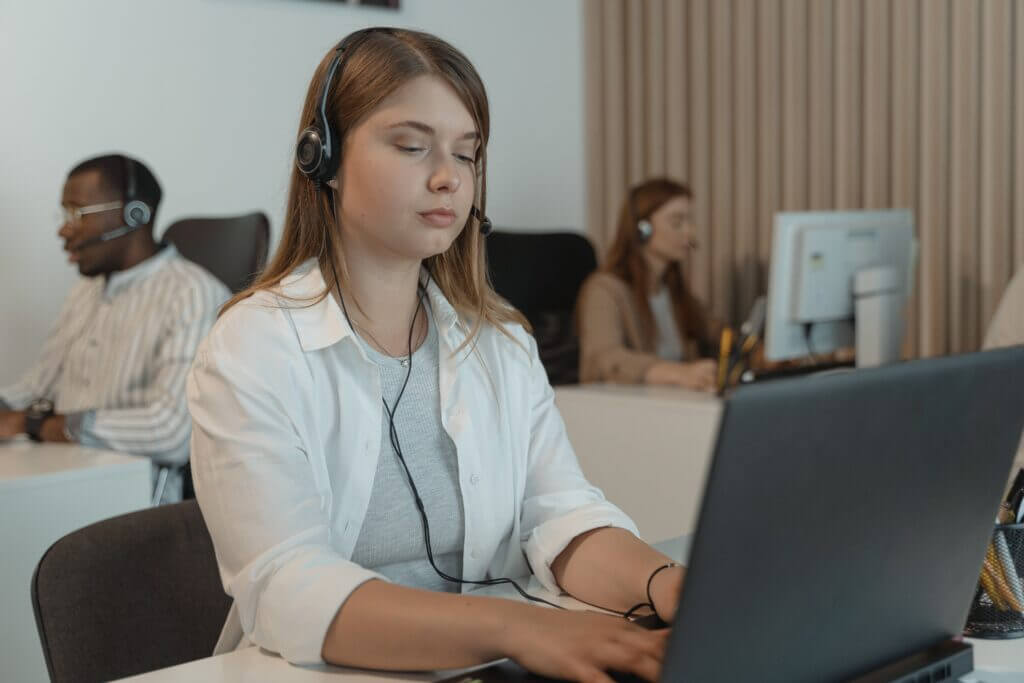 Data security in contact centers
Contact center as a service (CCaaS) platforms keep a large amount of sensitive client data, making them a frequent target for cyberattacks. That is why data security in contact centers is critical. These types of security threats on CCaaS systems can have serious consequences for businesses, including reputational harm, legal liabilities, and financial losses.

Below are some of the most common reasons for data breaches, together with the steps to be taken to ensure data security.
Reasons for data breach include:
Insufficient security measures such as weak passwords, outdated security systems, and a lack of employee training on data security best practices
Cyberattacks for gaining access to customer data – phishing attacks, malware, and ransomware are some of the most rampant forms of cybercrime
Human error is one of the leading causes of data breaches because contact centers are operated by humans, and humans do make mistakes
Insider threats by employees or contractors, who intentionally or unintentionally expose customer data by sending it to the wrong person or leaving it accessible to others
Best practices for ensuring data security:
Using strong passwords and password policies can help prevent unwanted access to customer data.
Encrypting data can help prevent unauthorized parties from accessing or intercepting information.
Employees should be trained on data security and should understand its importance. They should also be trained on best practices for securing client data.
Using security protocols like two-factor authentication.
Regular updates and upkeep of security systems.

4 steps to digital transformation in contact centers
1. Implementing more Customer Self Service (CSS) touchpoints through AI chatbots and IVR platforms
Both the customer and the organization benefit from implementing more CSS opportunities. Studies show that customers prefer to help themselves rather than speak with an agent.

Apart from reduced wait times, faster query resolution, and less customer effort, resolving an issue through self-service can cost the business up to a hundred times less than a live interaction. By deflecting simple queries to a self-service portal, the agent is able to focus on more time-sensitive and complex issues.

And although developing a user-friendly customer self-service portal requires time, money, and planning, it can reduce costs by 30%, according to both IBM and Chatbots Magazine. Also, AI chatbots are a great way to collect audience data such as names, email addresses, and more. These details can be easily accessed by integrating the chatbot with the CRM.

The Interactive Voice Response Menu is another cornerstone of digital transformation in contact centers. Digitally optimized IVR can provide a hyper-personalized customer experience by showcasing a customer's transactional history. Optimized IVR systems offer callback options and prompt customers to continue the conversation in another channel by leveraging AI technology.
2. Adopting a hybrid cloud approach
A hybrid cloud strategy offers the ideal combination of public and private clouds to fulfill business requirements. Contact centers that use hybrid cloud systems may provide their agents with better training, flexible scheduling, real-time self-service options, and other advantages to help them thrive. You can operate a work-from-anywhere organization using hybrid cloud-based solutions and prioritize security and scalability. When cloud apps incorporate machine learning, your organization may further personalize the client journey.
3. Creating an Omnichannel Contact Center
We've written extensively about the benefits of Omnichannel Support. An omnichannel contact center automates company communication by updating all communication channels in real-time. Customers can choose their preferred method of contact while interactions are automatically synchronized across numerous channels. This allows employees to quickly review the whole conversation history before assisting the customer, resulting in increased agent productivity, lower resolution time, improved levels of customer satisfaction, and a more personalized experience.
4. Implementing WFM tools and procedures
Contact center workforce management tools and procedures streamline the most crucial components of contact center operations, such as capacity management, labor forecasting, employee scheduling, and time and attendance monitoring. These technologies ensure high-quality service while lowering staff costs through effective agent scheduling. A robust WFM software leads to greater CSAT ratings, improved CX, and increased customer retention by elevating service levels through accurate forecasting and coordinated scheduling.

For a more in-depth look at WFM tools and services, consider these articles: What is Workforce Management (WFM) for Call and Contact Centers?,

Call center Workforce Management (WFM) tools and their benefits and Workforce Managed Services
---
FrontLogix employs cutting-edge technology, tried-and-true solutions, and skilled and experienced customer care representatives. The core of our next-generation customer experience is a frictionless transition between all channels: email, chat, SMS, social media, and in-app messaging. We identify global and local trends, embrace emerging technology, and empower our employees to provide the most relevant ideas and approaches.