A job as a contact center agent could be a great fit for somebody looking for a profession with low entry barriers, an excellent work-life balance, and plenty of opportunities for advancement. Contact center agents are customer service or sales professionals on the front lines representing a business, addressing concerns, and building strong customer relationships.
Are call centers the same as contact centers?
While a traditional call center provides customer service over the telephone, a contact center is a hub for managing customer communications. In addition to calls, it handles queries received through various channels such as email, live chat, social media messaging, and more.
Types of contact centers
---
Contact centers can be divided into three categories according to the approach, data integration, and the location where that data is kept.
1. Approach: inbound vs. outbound contact centers
The difference between inbound and outbound contact centers lies in their objectives. Customers contact inbound contact center agents through various channels with requests for product information, technical support, or customer service.
On the other hand, outbound contact centers are actively reaching out to potential customers for lead generation, market research, sales, or telemarketing.
2. Data integration: siloed multichannel vs. integrated omnichannel contact centers
Both multichannel and omnichannel contact centers support multiple communication channels, including phone, email, live chat, social media, and so on, allowing businesses to communicate using a customer's preferred methods.
The critical difference between the two is that omnichannel provides a seamless experience for the customer, enabling them to switch between channels mid-conversation, while multichannel does not. With multichannel support, context and history are not shared across channels.
3. Location: on-premises vs. cloud-based contact centers
On-premise contact centers are precisely that — all the necessary software, technology, equipment, and agents' workspaces are located in a distinct physical space.
Cloud contact centers are hosted on a public cloud, enabling access to the software with an internet connection and sufficient bandwidth. This allows a flexible, work-from-anywhere workspace.. With these remote, cloud-based contact centers, agents operating in different time zones can cover customer care 24/7 without resorting to night shifts.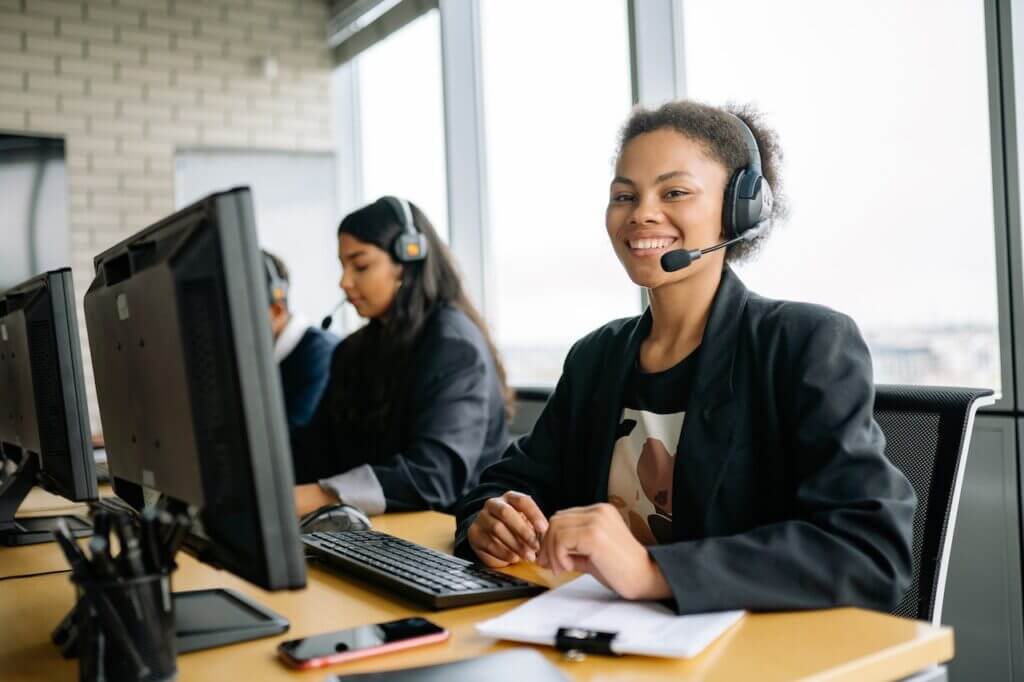 Pros and cons of working in a contact center
---
Pro: gaining excellent transferrable skills
Apart from developing excellent communication, persuasion, and problem-solving skills, contact center agents get training in technical skills, computer skills, and product knowledge, which can be a great stepping stone for future opportunities.
Pro: The option to work from home
Contact center jobs often offer flexibility and chances for remote work, allowing employees to have a better work-life balance and avoid long commuting hours.
Pro: Potential for bonuses and commissions
Sales contact center agents can earn substantial bonuses or commissions for upselling products or services.
Pro: The option to work part-time
Flexible hours and part-time work options are other significant pluses for many trying to supplement their income or go to school.
Con: Handling frequent changes
Contact center agents often work for several clients at a time and deal with frequent changes in products, policies, and procedures. This can require continually learning new things, but it can also keep the work fresh.
Con: Dealing with difficult situations and people
When working in customer service, one may encounter a variety of people and situations. Some of them will be challenging and demanding. When facing this type of situation, it is critical to develop resiliency and maintain calm. However, hard work is worth it when you solve a problem and create a happy, delighted customer.
Con: It might become a routine
Some may find the job to be repetitive, especially after working in a contact center for quite a while. It may become a monotonous job for some, but it doesn't need to be if you are open to learning new things and taking on new responsibilities.
Con: Working odd hours
Because most organizations have a global audience, being in different time zones may require working nights or weekends. This can be an advantage, depending on how you look at it. It might be a plus if you accommodate a regular day job or school activities.

Conclusion:
---
Just like any job, working in a contact center has pros and cons. Dealing with different people can be challenging at times but also quite rewarding. What is certain is that working as a contact center agent will prepare you for future challenges by teaching you impactful communication and other transferrable skills.
At FrontLogix, not only do we help our clients grow, but we also help our employees reach their full potential, both personally and professionally! Each FrontLogix team member is provided with the necessary tools and empowered to succeed. We offer comprehensive training, a competitive salary, flexible working hours in cozy offices, and opportunities for advancement. As a member of the FrontLogix team, you will gain valuable experience, and, most importantly, you will become part of an organization committed to delivering excellent customer service and fostering healthy relationships!